Eric Ross Avant (ERA) Ensemble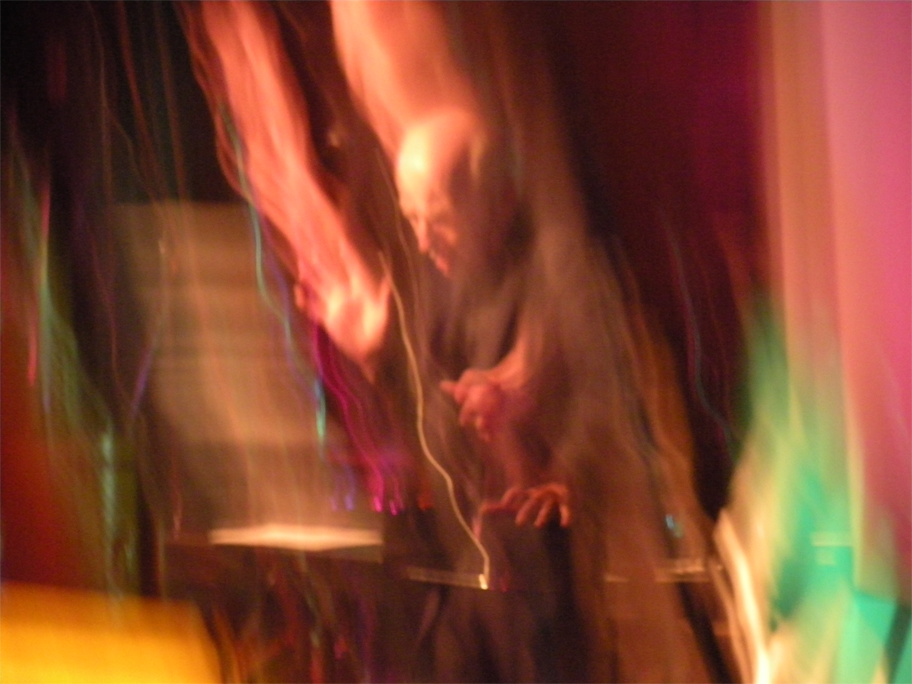 Eric Ross
- Eric Ross premiered his
Concerto for Orchestra and Theremin
(Op.28) at Lincoln Center in New York, and in 1982 released his acclaimed first solo album,
Songs for Synthsized Soprano
. He has performed concerts of his original compositions at the Kennedy Center, the Newport, Berlin, Montreux, and North Sea Jazz Festivals, the Copenhagen New Music Festival, Prague Unijazz Alternativa Festival, Brussels Palais des Beaux Arts, the Guggenheim Museum Bilbao and the Los Angeles Redcat Center, among many others worldwide.
Click here for full biography.
Trevor Pinch - Trevor Pinch plays Moog and home-made modular synthesizers in the Electric Golem with James Spitznagel and Atomic Forces. He is widely recognized as the leading expert on Robert Moog and is co-author of Analog Days: the Invention and Impact of the Moog Synthesizer. He lectures on Moog all over the world and is the Goldwyn Smith Professor of Science and Technology Studies. He lives in Ithaca, NY, and is Professor of Sociology at Cornell University. He has recently presented Charlene Martel's award winning film on the Ondes Martinot.
Peter Rothbart - Peter Rothbart is Professor and Director of Electroacoustic Studies at the Ithaca College School of Music in Ithaca, New York. With undergraduate performance degrees from the Eastman School of Music (Highest Honors) and UMass, and graduate degrees from Ithaca College and the Cleveland Institute of Music, he is active as a composer in both the acoustic and electroacoustic worlds, with three Carnegie Hall premieres to his credit. He has written and orchestrated for the Utah Shakespearean Festival during their Tony Award-winning year and has completed his fifth film score. His book, "The Synergy of Film and Music: Sight and Sound in Five Hollywood Films" is published by Scarecrow Press. He has authored over 300 published articles for Down Beat Magazine, the Cleveland Plain-Dealer, the Ithaca Journal and other magazines. He is a contributing editor for Journal SEAMUS, of the Society for Electro-Acoustic Music in the USA.
Jason Smeltzer - Jason Smeltzer received arts grants from the Pennsylvania Partners in the Arts/Lackawanna County Arts and Culture. He has performed with The Crystal Band with conductor Ray Stedenfeld, and has performed classical and jazz repertoire with pianists Wayne Smith, Michelle Millington, Catherine Shefski, classical guitarist Jay Steveskey, and harpist Deirdre White. Dance collaborations in Middle-eastern dance with Diana Shahein and the Beledi Dance theatre. With illustrator Ted Michalowski, he performs every summer at various arts venues in Poland.
Eric Roth - In addition to playing Avant-garde, Eric Roth specializes in period instruments, including Renaissance Baroque lute and 19th century guitar, and was a former lead guitarist for the punk metal band Siren Flower. Eric received BA in Music Performance from the State University of New York (SUNY) at New Paltz and MA from SUNY Albany. He has studied with Eric Ross, Paul Sweeny, Bonnie Meadow, Bill Matthews, Gregory Dinger, and Patrick O'Brien. He frequently performs throughout the New York, especially in the Hudson Valley Region.
John Snyder - John Snyder began his musical career by singing in the church choir, high school and college band, and had a fascination with electronic music and the Theremin, and playing the ARP 2600 analog synthesizer. He has recorded and performed with jazz great Joe McPhee, both in the USA and Europe, composing and performing electronic music with a collection of analog synths accompanied with synth-controlled laser image projections. He performs on the Australian-Aboriginal didgeridoo and the Waterphone. John was involved for many years with David Darling's Music for People, and more recently with Paul Winter's Adventures in Sound Play workshops and currently works with sound healing.
Joseph Perkins - From Philadelphia, Pennsylvania, Joseph Perkins has peformed extensively in Northeast as a Bassist with Sonando, Salse Libre, Unity Group, among many other groups. For over ten years, he has been principal bassist with the Eric Ross Blues Band.